We are specialists in:
CCTV inspection & surveys to detect drainage problems
Pre-purchase surveys
Build-over surveys
Whether you're moving home and would like to confirm that the drains to your new or current property are in full working order or you're thinking of adding an extension to your property which could be dependent on the standard of the drainage, this service will efficiently be undertaken by Happy Drains to the highest industry standards.
Extracts from a Happy Drains CCTV survey report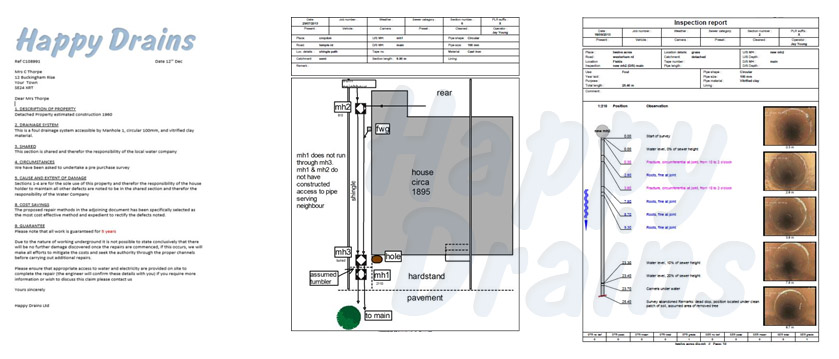 Our CCTV survey will reveal what the problem is, if any, and provides the essential information via our technical report and assessments and then decide on an appropriate course of action.
From the survey report we can see exactly what's wrong, and work out the simplest, quickest and most cost-effective way to put right any structural problems. This helps avoid the cost and disruption of digging to find a problem.
We are happy to help with more specialist requirements such as Building Site work, Factories, Airports, Hospitals and the Hospitality industry, amongst many others.
If you have damage to the pipework and you are considering claiming via your buildings insurance policy, we are happy to help, we will offer to manage the claim for you, and use the CCTV survey as part of a clear written report for your insurance company.
If you're not covered, you can still use Happy Drains to organise the repair, and then pay for it yourself (we'll agree a cost with you at the start). Or you can decide not to do the repair and simply pay for the unblocking or other initial emergency work.
The CCTV survey is paid for by the insurance company as part of the settlement of your claim, but if the survey finds no problem you can claim for, then there's nothing to pay – we waive the survey cost. No fault, no fee.
Using the latest industry software and CCTV technology, we will provide you with a full technical report, recommendations, specifications and quotations for any associated repairs from qualified engineers.
We can provide you with:
Detailed CCTV drain surveys
Drain condition reports to help with insurance claims
Expert advice and assistance
House purchase surveys
Drain repairs
Crawler systems for large bore pipes
Building site work
Factory and industrial site inspections
Environmental audit requirements