Blocked drain
in London

? Get it unblocked FAST!
We are available to clear blocked drains 24/7 in London so no matter when, give us a call! We provide each Happy Drains customer with the best service and at the best value price. Get your London drain unblocked FAST — customers come first at Happy Drains!
London
Domestic drain unblock
Best value and service guaranteed
No extra charge for jetting
Drainage challenges in London? — Happy Drains are ready to help restore flow at your business premises. Great value for money is our top priority, and we aim to provide all London business customers with extraordinary service at the best prices. So whatever the type of blockage, call us!
London
Commercial drain unblock


5359

reviews



9.8

out of

10
Reviews are a most critical tool, negative or positive they help us understand how we are doing in London. They give you an insight about whether you should be employing that company in London. Consider our reviews and then you can make up your mind who to trust and why.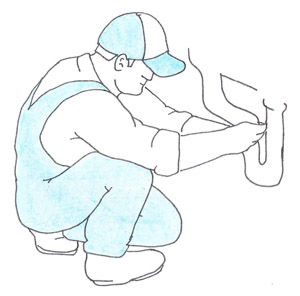 * Terms: The drain to be unblocked must serve your house or flat exclusively, be fully accessible (per building regulations), have the appropriate inspection chamber or access point and pipework that has not failed. You have permissions to enter relevant access areas unhindered.
London Blocked Drain Clearance, CCTV Surveys & Repair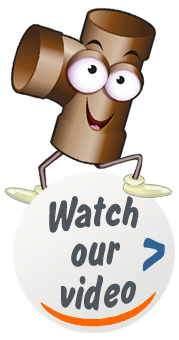 London drain unblocking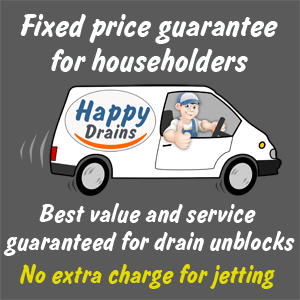 With thousands of rave reviews from satisfied customers, look no further than Happy Drains for all your London area drainage needs. Whether in London or the home counties, our network of engineers will get to you FAST.
Our engineers receive regular training to ensure we deliver to you the very best service. Experience and skill plus investment in the best equipment and latest technology helps us to to get your drains fixed good and fixed fast, simply the most highly rated drain and sewer services in the London area.
How much does it cost to clear a London blocked drain?
Best value and service guaranteed for a London residential dwelling private drain unblock during normal working time. Our price includes jetting, unlike some London drain companies who'll try rods first then charge you extra for jetting.
Blocks of flats and commercial properties depend on complexities.
Please call us for a no-obligation quotation.
You may find lower prices elsewhere, but many London drainage firms will pile on the extras.If it sounds too good to be true it is!If you're comparing prices, make sure you get a fixed price including jetting as some London drain companies charge extra for jetting which we think is wrong.
How long does it take to clear a London blocked drain?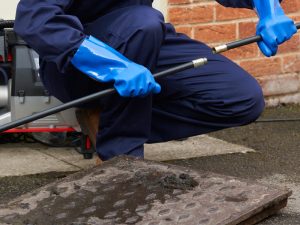 The average London domestic blockage is fat and grease based. To unblock this type of job takes roughly 1-2 hours. Unblocking usually involves rodding or a snake to remove the blockage. For more stubborn blockages high pressure jetting may be the only option.
Best value and service guaranteed for a London residential dwelling during normal working time. Our price includes jetting, unlike some competitors who'll try rods first then charge you extra for jetting.
Who's the best drain company in London?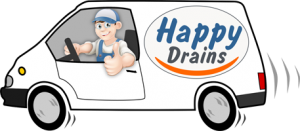 We'll let you decide that, but just take a look at the reviews that drain clearing companies receive from their customers and you'll see that Happy Drains are right up there as a leading provider of drain unblocking and drain repair services. We have thousands of excellent reviews from very satisfied customers. Here's just a few of them:
London drain responsibility
It's not always obvious who's responsible for a particular section of London drain or sewer pipe, but here's our quick guide to establishing who's responsible for London drains when they get blocked or need repair.
Who's responsible for blocked London drains?
If the drain serves exclusively your property and the blockage in the drain is with your property boundary then that is the owner's responsibility. If it's shared or beyond the property boundary then it's probably the responsibility of Thames Water. Our diagram below makes this much clearer. If in doubt, please give us a call for advice.
Who do I contact about a blocked London drain?
Sometimes London drain issues can only be successfully be resolved by an industry professional. At Happy Drains, we're able to restore free-flowing drains to your home or workplace however serious the blockage. Give Happy Drains a call and our team of friendly, professional technicians can get your London drains back in full free flowing working order, from sinks, to toilets, to the main drains – we have skills and leading equipment to restore flow fast.
Do Thames Water unblock London drains?
Thames Water will only clear drains that are their responsibility i.e. shared London drains or beyond your London property boundary. See our diagram below to establish whether your drain could be shared.
How do I contact Thames Water for a shared London drain problem?
If you think you have a shared London drain blockage or problem, you can contact Thames Water via their websites, but check the diagram below first: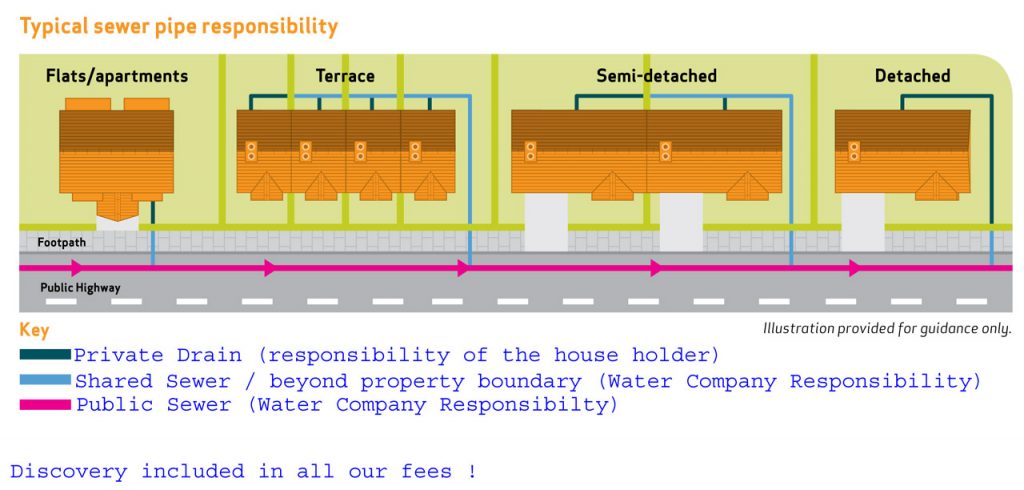 If we find the drain is shared and a Thames Water issue we will charge for our site visit and we will refer you to them for further investigation and possible refund of charges.
Diagnosing blocked
London drains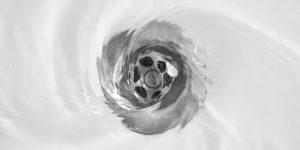 It's not always obvious if a drain is blocked or why it got blocked in the first place, but here's a few pointers to set you in the right direction.
How do you know if a drain is blocked?
An obvious indication that a London drain is blocked is a slow running sink or toilet. Sometimes the toilet over fills or the water even appears to have been sucked out the pan. That is a vacuum caused by a blocked drain downstream of the toilet. Water seepage in the yard or garden is also a likely indication.
Why do drains get blocked?
Never put fats down a London drain! Over time, this will always result in drain blockages. Likewise, paper towels, wet wipes & sanitary products should not be flushed down as they don't breakdown and result in blockages. Too much paper and cat litter can also be the cause of blocked drains. Remember it's a toilet not a bin!
Why does my drain keep getting blocked?
There are many factors, but something you need to consider first is professional London drain cleaning. This is because DIY solutions often just don't work longer term. There could be underlying problems and further investigations are strongly recommended when experiencing regular drain blockages. Cracked or misaligned drains, root damage or accidental damage are common London drain problems that a professional company such as Happy Drains can help you with.
Can a blocked drain cause damp?
No, is the simple answer for a drain in good condition, but broken or cracked drains can cause damp. Drains are designed to be watertight. The water would seep out of a crack or failed joint to cause damp or numerous consequential damage issues. A flooded and overflowing drain will cause damp issues if left unresolved. Our CCTV survey can find all of these problems.
Repairing broken or damaged London drains
Sometimes London drains become blocked or leak due to damage which can result from many causes.
How do you repair a broken London drain?
The site condition would dictate the requirements, but the two main methods are either excavation or no dig technology such as a sleeve inserted within the drain. It depends which option is practical and cost effective based on appropriate investigations. A drainage professional would determine that after visiting site and undertaking a London CCTV drain survey.
DIY tips for unblocking a London drain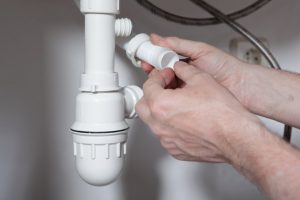 If you have the time and would rather spend your money on the more enjoyable things in life then we fully support DIY unblocking of London drains and here's our guide to help you with that. However, when all else fails, get in touch and rest assured our experts will resolve the problem FAST.
What can I use to unblock a London drain?
Try these tips and tricks for unblocking a London drain yourself:
If it's a slow running sink, try hot water or a proprietary chemical from a DIY store.
Hire a set of rods, always try to push the blockage down to the next manhole or drain downstream.
If it's a blocked gully , it might be simply leaves blocking the grill. Get a broom handle and scrape the gully grill, that might just to the trick.
How do you clear a London drain downpipe ?
If you can safely dismantle the downpipe, it may be easier to give it a go and clear by hand. If that doesn't work or it's not safe, it may need high pressure jetting or an electromechanical snake. Give us a call and we'll give you the best advice.
What kind of vinegar unclogs London drains?
The acid in white wine vinegar can break down fats. Pour some baking soda into the sink then a bottle distilled white vinegar into the London drain. Don't be surprised by the audible reaction that occurs. Then poor hot water into the drain, then repeat. This is best for a slow running London drains.
How do you clear a clogged drain at home?
For a sink, shower or toilet boiling water is a simple and effective method. Simply boil water in a kettle pour it carefully directly down the drain. Boiling water is one of the most effective London home remedies melting fats and grease, loosening debris to restore flow.
How do you clear a blocked sink U-bend?
The U-shaped pipe beneath a sink is designed to use water as a seal to stop smells and drainage gasses from drifting back up and out into your home. The shape of the trap also catches heavy debris and if this is allowed to build up it'll result in blockages. It's easy to clear it, and a lot cheaper than calling out a London drain company:
Empty the sink with a bucket, take the water and pour it down the WC.
Put the bucket in place under the trap.
Loosen the trap by undoing the plastic screw coupler, remove it and let the water out into the bucket.
Take a metal coat hanger and run it through the pipe and the trap to dislodge any debris.
Unblocking a London drain with a plunger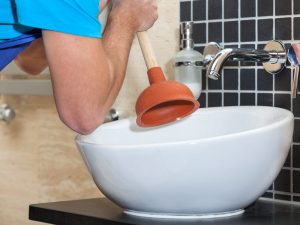 We recommend every London home should have one. The plunger one of the best home DIY tools for unblocking sinks and toilets. The toilet plunger is the bigger version. A sink plunger can be small or large, the bigger the plunger creates more plunge power – the magic ingredient.
For sinks, remove the metal strainer in the drain prior to plunging. The secret lies in creating a good seal between the plunger and sink or WC. Get the plunger in place and then get to work, with fast, sharp pumping motions. For toilets, the rubber disc must not be smaller than the U-bend. This is vital to successfully unblock a London toilet. Simply push the plunger up and down fast and hey presto.
Unblock a London drain with a hand driven snake
This simply works by pushing and twisting a thin snaking steel wire into the small-bore pipe work that serves sinks, showers and London baths. The cable is twisted and propelled forward by hand and when it hits the obstruction it dislodges the debris to restore the flow. This task takes a little time and perseverance, you will have to remove the trap before attempting to clear and drain using this technique (see our guide above) but make sure you place a bucket under the trap to catch the water.
How do you unclog a London drain without a snake?
Yes, the use of boiling hot water is often effective, and chemical drain cleaner can be also used. Kinetic force can also be effective, such as a water ram or a simple plunger. This uses the transfer of energy to push the blockage along the pipe. This is effective in a sealed system where there are no connections, so the force is focused forward to dislodge the blockage.
Using soda or cola to unblock a drain
You probably have a bottle or two around your home and it's perfect for unblocking drains. To be effective, your favourite bottle of fizzy pop should be at room temperature and should be full fat, not the diet or lite types. You may recall from science lessons at school what happens to a tooth if you leave in a fizzy drink. The same corrosive quality of your favourite cola does the same to a blockage if poured down the drain and left for an hour or two. Give this method a go. It's a little eco-friendlier compared to a dangerous chemical drain cleaner.
London CCTV Drain Surveys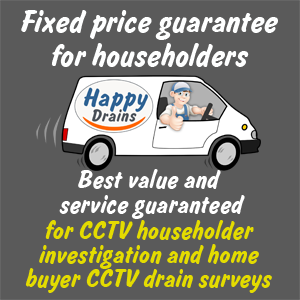 Sometimes the only way to get to the bottom of a London drain problem is to go inside the pipe with a camera and for that, Happy Drains are the no.1 choice of partner to provide such specialist services.
What is a London CCTV drain survey?
A London CCTV drain survey is a detailed examination of your drainage system. The survey will determine the structural condition and the serviceability of the drainpipe. During the inspection we will note all defects and issues to allow you to understand how the drain works and its condition. We use high-tech CCTV cameras that are propelled through the drain to identify and report any issues that might be present.
What is a CCTV drain survey report?
Any professional drain survey should come complete with a written technical report using industry standard software. This details information such as the date, manhole numbers from & to, size of pipe, pipe material, shape, direction, distance (m), lengths, remarks and pictures of relevant observation.
All of this information should be evidenced via a video file for referencing and quality assurance purposes.

5359

reviews
=

9.8

out of

10
Main drain to sewer blocked
"I'm a landlord and a tenant reported shower not draining. On inspection I found main drain was blocked with sewage. I was unable to rod; so called Happy Drains. They responded the next morning and within 35 minutes they had unblocked the main sewer pipe. They cleared all pipes to the main man-hole and tidied up. Gordon and Tommy were efficient, obviously took pride in doing a good job and proud of their company. They gave sage advice to prevent reoccurrence. Fix price quoted for the visit which was very competitive. I didn't have to pay extra for the use of the water jet."
Blocked shower
"Very quick service. Young man was very helpful, and professional. Was very complimentary about how clean my pipes were. Problem was resolved very quickly and now all flowing well"
Quick and efficient.
"We had a block drain linked to a saniflo. The technician came very quickly, he was very careful of the house and the bathroom, fixed it in no time and still took the time to explain what was happening and what he was doing and how to avoid that. Very happy with the intervention."
Blocked drains and Toilet
"Turned up on time and cleared the problems in a very efficient manner and charged the cost agreed. 5 stars ??"
In London the following drainage problems could benefit from a London CCTV drain survey...
Failed or broken soakaways in London
Ditch drainage problems in London
Bad smells in London
Blocked London toilets and blocked London showers
Broken or blocked London sewers or sewage pipes
London CCTV-controlled cutting problem
Fractured drain in London
Bellied drain in London
Overflowing or blocked London drain pipes
Problems with shared London drains
Tree roots damaging drains in London
Cracked or leaking London drains and pipes
Vehicle activity affecting drains in London
Blocked or broken London drains
Collapsed drain in London
London pitch fibre pipework problems
Joint displacements in London pipes and drains
Deformed pipework in London
Longitudinal cracking in London drains
Clogged or broken pipes in London
Ground movement causing London drain problems
Build-up of fat, grease, or detergent in London drains
Overflowing or leaking London septic tanks & cesspits
Bellied pipework in London
French drainage problems in London
Concrete, cement or builders' rubble in London drain
Cutting out tree root mass from London drains
Water level problems in London
Land drainage problems in London
For London blocked drains we use selected local London professionals.
This ensures London blocked drains are unblocked fast followed by CCTV inspections to get your London repairs in progress.
London drain services from a firm receiving great feedback...

5359

reviews
=

9.8

out of

10
Cracked pipe
"I had a blocked drain, the guys cleared it and put a camera down and it showed the waste pipe had cracked in 2 places. They sent a quote and returned in a few days to fit new sleeves to The pipe to rectify the problem. Very polite, quick and efficient service"
Unblocking outside drain
"Excellent service. Tommy was extremely courteous, informative and gave good advice on drain maintenance."
Clear blocked outside drain
"Arrived when estimated and phoned beforehand. Cleared and flushed drain and gully"
Drain gulley cleared
"Trades people were prompt and efficient cleared the gulley and cleaned up the debris from it. Very polite and helpful."
Cleared blocked drains
"Very polite workmen, obliging and efficient and reasonably priced. Highly recommended"
Finding a block in our drains.
"This is my second time that I've called happy drains to my commercial property to help with my drainage. I am a super satisfied customer and I would recommend these guys to anyone looking to sort out or find out problems with their drains of all kinds. Good value and excellent customer service too 5*"
Clear a blocked toilet, sink and clean a smelly drain
"Delighted with the work done today. Happy Drains were very efficient in responding to my weekend request, setting me up with a non-emergency appointment within a few days of my request. Their tradesman was professional and explained to me how the issues would be resolved. After resolution, we had a chat about preventative measures for the future. He also took his shoes off of his own accord to protect the carpet. Will definitely use this company again next time."
Blocked drains
"Tommy was an absolute legend, super friendly quick and very thorough couldn't of asked for a nice chap to come round and unblock my drain for me highly recommend him and the team"
Blocked drain
"Thank you so much for such a great job today. We called Happy drains as we were stressing about a blocked drains and we had Richard arriving the same day and solve the problem in no time. Price was great too. We are very happy with this 5 stars service, you have a very happy customer and will highly recommend and use you in the future."
Clearing drain
"Really pleased with the work that was carried out. Same day as I called they came out, hassle free. Sorted the issue within half an hour! Thank you!"
Very happy with the way the job was carried out
"We had a blocked kitchen sink and after reading the reviews I called Happy Drains. I was very happy with the service. The gentleman who came was pleasant and did a thorough job. Recommend them highly."
Blocked drain
"Happy Drains have been great to deal with all the way through, they were quick, efficient, friendly and tidy. They came to my address, assessed the situation, resolved the problem quickly and efficiently."
Clearing a blocked drain and checking a couple of other drains.
"Friendly service, prompt, tidy and talked me through the issue and what I can do to help prevent reoccurrence. Quick to sort an appointment and accommodating on dates and times. Would definitely recommend."
Blocked pipes
"I called mid morning and they came within a couple of hours. The job was carried out quickly and thoroughly by the men that came round, they removed their shoes on entry and left everything tidy behind them, I would definitely recommend Happy Drains."
Brilliant Service Provided
"Scoring given on costs, response time and especially due to the operative that attended. I would recommend this company based on my experience and especially the operative who attended."
Drain clearing
"Great quick service, photos sent of clearance, good prices, easy to contact. Would recommend and use again"
Fast and efficient and effective
"Our outside drains were blocked from so much rain and garden debris. I called at 8am and Tony was there by 8.30. Earlier than the booking by 30 minutes. He was straight onto the problem clearing the blocked drain and then checked all the others around the house too. He took away the debris and left all the areas near and tidy."
To clear a slow draining shower
"Justin was extremely helpful and knowledgeable. He cleared the drain quickly, unlike the previous contractors, and gave a 30 day warranty for his work. I cannot recommend Happy Drains more highly"